Best Investment Options for Senior Citizens And Pensioners!
04 January 2022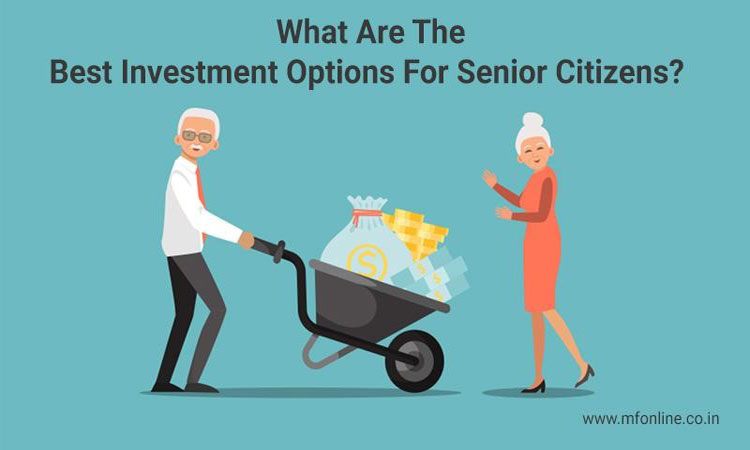 What are the best investment options for senior citizens? Retirement is a significant milestone in one's life. Whether self-employed or salaried, everyone expects to be able to live comfortably once they retire. This article covers all you need to know about several post-retirement investment options for senior citizens.
You've spent your entire life working and setting goals, achieving them, and racing toward your dreams. The victory lap is highly praised after the race. It's the one that gives you a rush. This pause in your lives, which we affectionately refer to as retirement, is a beautiful change. However, there's so much more you want to accomplish, from travel to entrepreneurship to self-care programs. If you choose wisely from the most suitable investment options, your ambitions might become a reality.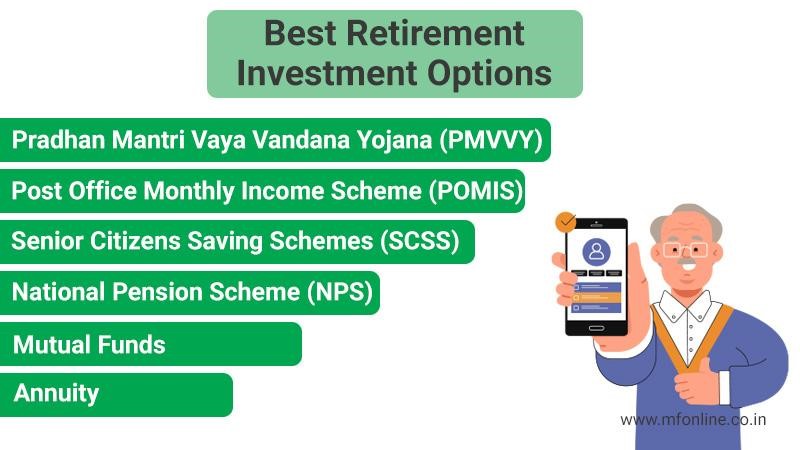 Best Investment Options For Senior Citizens- For Regular Monthly Income.
1. Senior Citizen Saving Schemes (SCSS)
The Senior Citizen Savings Scheme is a government investment schemes for senior citizens. SCSS is a zero-risk debt product. It is available to individuals over the age of 60 and provides the security of a guaranteed income for the duration of the investment. The scheme is available at post offices and recognized banks around the country and is considered the best saving scheme for senior citizens.
Rate of Interest: SCSS's current interest rate is 7.4%. This plan not only pays a higher rate of interest than conventional savings and fixed deposit bank accounts.
Tax Implications: Section 80C provides tax benefits of up to Rs 1.5 lakh per year under Section 80C of the Income Tax Act, 1961; however, interest is fully taxable.
Eligibility: Only Indians aged 60 and over are eligible for this investment program for senior citizens. It does not apply to HUFs (Hindu Undivided Families) or NRIs (Non-Resident Indians) (Non-Resident Indians). The only exceptions to the age limitations are citizens who choose the Voluntary Retirement Scheme (VRS) or Superannuation at 55-60 years, or retired defense personnel between 50 and 60 years.
Investment Amount: SCSS has a maximum investment value of Rs. 15 lakh and a minimum investment amount of Rs.1000. You have the option of investing a lump sum amount either individually or jointly. Your total investment cannot exceed Rs. 15 lakh across all your accounts in this program.
Depending on the date of investment, interest is credited quarterly. In this scheme, there is no option of reinvesting the interest as the whole idea of the investment is to provide monthly income to senior citizens.
Tenure: Coming to the duration of the investment, with the intent of safeguarding the interest of the elderly, the Senior Citizen Savings Scheme has a maximum term of 5 years. You may extend it for another three years after that. It is only a one-time opportunity. You must also note that if you wish to extend the scheme's duration, the interest rate of that particular quarter will apply.
2. Pradhan Mantri Vaya Vandana Yojana (PMVVY)
Another investment scheme for senior citizens is the Pradhan Mantri Vaya Vandana Yojana. PMVVY scheme is operated and managed by Life Insurance Corporation (LIC).
The Pradhan Mantri Vaya Vandana Yojana is a retirement-cumulative-pension plan. An annuity plan pays you a predetermined amount every month once you deposit a lump sum money in it. This particular government investment schemes for senior citizens is only available with LIC. So you have to approach LIC for your retirement security.
Rate of Investment: Subscribers to the PMVVY plan are guaranteed an annual return of 8% to 8.3% for ten years.
Tax Implications: Here, the investment amount is tax-free, but your interest income will be taxed according to your income tax bracket, and your maturity amount is likewise taxable. In addition, there is no tax advantage under section 80C.
Eligibility: The Pradhan Mantri Vaya Vandana Yojana is only available to older people with an age limit of 60 years or above. Furthermore, PMVVY is exclusively available to Indian nationals. This option is not available to non-resident Indians.
Investment Amount: The minimum purchase price under this senior citizen plan is significantly higher. PMVVY has a starting price of Rs.1.5 lakh, and the maximum limit is Rs. 15 lakh. Surprisingly, the maximum purchase price was fixed at Rs.7.5 lakh at first but was later increased after the first year.
Tenure: As it is a pension cum retirement plan, pension payouts are available on a monthly, quarterly, half-yearly, or annual basis. You can select any of these alternatives based on your financial retirement plans. But you will receive the entire sum assured only after completing the policy term in 10 years.
3. Post Office Monthly Income Scheme
MIS is one of the best investment options for senior citizens as it gives monthly security to pensioners. Let us look at the eligibility and other criteria to understand this scheme better.
Rate of Interest: It is 6.6.% p.a, and it changes every quarter. Compared to PMVVY and SCSS, the interest rate is low but more beneficial than fixed deposit schemes.
Tax Implications: The interest is treated as income and therefore liable for tax per the investor's slab rate. After maturity, you will be required to pay tax on the principal amount received.
Eligibility: The beauty of this scheme is what sets it apart from other investment options available to senior citizens. The POMIS is open to all Indian nationals above the age of ten. An adult, either alone or jointly, a guardian (acting on behalf of a minor), or a minor above ten can open an MIS account in their name. Non-individuals are not permitted to have an MIS account.
Investment Amount: Minimum investment in this scheme is Rs. 1500, making it an excellent opportunity for any individual to start investing in POMIS. A single account may hold up to Rs 4.5 lakh, while a joint account can hold Rs 9 lakh. Interest is paid when one month has passed from the account's opening date until the account's maturity date.
Tenure: MIS scheme by Post Office is of 5 years. Upon maturity, you can reinvest for another 5 years or withdraw the funds entirely.
These are some of the best investment options for senior citizens that carry low risk and provide steady monthly income.
Best Investment Options For Senior Citizens- For Growth
1. Annuities: Insurance For Retirement
With rising inflation in mind, investors must prepare not to run the risk of outliving their resources ahead of time. An annuity is a long-term investment plan offered by the insurance company designed to provide steady cash flow for people during their retirement years.
You can purchase or invest in annuity plans offered by different financial institutions, insurance companies. An annuity can be purchased with a single payment or a series of payments. Similarly, your payment may be made in a single lump sum or in a series of repayments over time.
Apart from retirement, it offers death benefits and tax-deferred benefits. Fixed, variable and indexed annuities are the most common forms of annuities. In addition, there is a lock-in period called the surrender period before a purchaser starts receiving payments. That is why you want to know that the firm will still be around and financially strong during the payment period. Every investment has some amount of risk. So make sure to think about the insurance firm issuing the annuity's financial strength.
2. National Pension Scheme (NPS)
Another investment scheme for senior citizens which they can consider is the National Pension Scheme which can be availed by individuals aged 18- 65 years. This scheme can be extended till 70 years of age for senior citizens.
NPS investments are directed towards equity, corporate, and government securities depending on the individual's asset allocation preferences and risk appetite. Though NPS does not offer steady regular income, the scheme can provide excellent returns on investments by directing your investments towards equity. The maximum equity investment is capped at 75%.
3. Investing In Mutual Funds
Investing in mutual funds is the most effective way to accumulate money over time. Consider investing in mutual funds to reap the benefits of inflation-beating gains as well as tax savings. It is the best option for senior citizens to invest in. It is an ideal investment for retirees and pensioners who want to surpass inflation.
IS MUTUAL FUND THE RIGHT INVESTMENT SCHEME FOR SENIOR CITIZENS?
While there are many excellent mutual fund investment choices, let's look at the most acceptable retirement plan or mutual fund investment to maximize your wealth and make the most of your retirement years.
Your risk tolerance drops after retirement, and capital safety becomes the most critical consideration. As a result, you have the option of investing in either Debt Mutual Funds or Hybrid Mutual Funds that have little or no equity exposure. You can make your decision based on your risk tolerance and future objectives.
BUILD YOUR WEALTH WITH THE BEST INVESTMENT OPTION FOR RETIREMENT WE OFFER
We recommend the following retirement plan if you take a moderately conservative risk. You need to make a monthly investment of Rs. 10,400 to maintain the same standard of living post-retirement. We have provided the best option for senior citizens to invest in alignment with inflation, deal with medical emergencies, and, most importantly, have a stress-free and comfortable social life.
FACTORS SENIOR CITIZENS MUST CONSIDER BEFORE INVESTING
Age Appropriateness: Senior investors must make intelligent investment decisions as it is a well-known truth that the larger the risk, the higher the reward. The young generation can take speculative risks and invest in equity mutual funds with higher returns because age is on their side. Even if they suffer a significant loss, they can recover over time. So, one of the essential factors to consider while choosing the investment schemes for senior citizens is age.
Invest In Bond Funds: If you're retired and searching for a place to put your money for the short term, short-term Debt Funds invest in bonds that lend to firms with a strong credit rating for a period of one to three years. These Debt Funds can outperform a bank FD in terms of returns. As a result, debt mutual funds are a viable investment option for senior citizens as they are less volatile.
Opt For Dividend Yield Funds: If a retiree investor wants a constant flow of income, he/she should opt for dividend plans over a growth plan so that there is a continuous flow of income from the fund in the form of dividends. These funds are significant for senior citizens, or first-time investors since the underlying firms in which they invest are significantly more stable and capable of weathering the market's volatility. Even when the market is at its lowest point, the underlying companies of dividend yield funds pay out dividends.
Hire Experts To Manage Funds: MFonline offers a diverse range of mutual fund plans to meet various demands. Invest in top-performing mutual funds hand-picked by our experts from the comfort of your own home and earn inflation-beating returns. Senior citizens who do not have the knowledge, skills, ability, or time to manage independently should take advantage of hiring experts to create their portfolios and manage their wealth.
Conclusion
Not only do the above-mentioned investment options for senior citizens offer the most satisfactory returns, but they also ensure that you retire happily from work and live your life to the fullest. Therefore, feel free to choose the best option for senior citizens to investment.
Frequently Asked Questions
Where Should a 70 year Old Invest His/Her Money?
Depending on the risk appetite and goal, different investment avenues are available for a 70-year-old:
Real Estate
Real Estate
Alternate Investments like mutual funds
Fixed Deposits for senior citizens
Which Is The Best Monthly Income Scheme For Senior Citizens?
Senior Citizens Saving Scheme and Post Office Monthly Income Scheme are some of the best monthly income schemes with low risk. Additionally, these schemes also offer a higher rate of interest than regular fixed deposits.
Is SWP Good For Retirees?
It is a wise investment option, and opting for a Systematic Withdrawal Plan in mutual funds can prove beneficial for Retirees as it can provide regular income. SWP is a process in which an investor invests a large payment in a mutual fund scheme and then instructs the fund house to redeem units at regular intervals. The sum saved is deposited into the investor's bank account to support everyday household expenses or supplement the investor's monthly income.
What Is STP In Mutual Funds?
Systematic Transfer Plan, as the name suggests, allows the investor to give consent to a mutual fund house to transfer or switch periodically a certain amount of units in another scheme offered by the same fund house.
Disclaimer: All Mutual Funds are subject to market risk. Please read all scheme-related documents carefully.