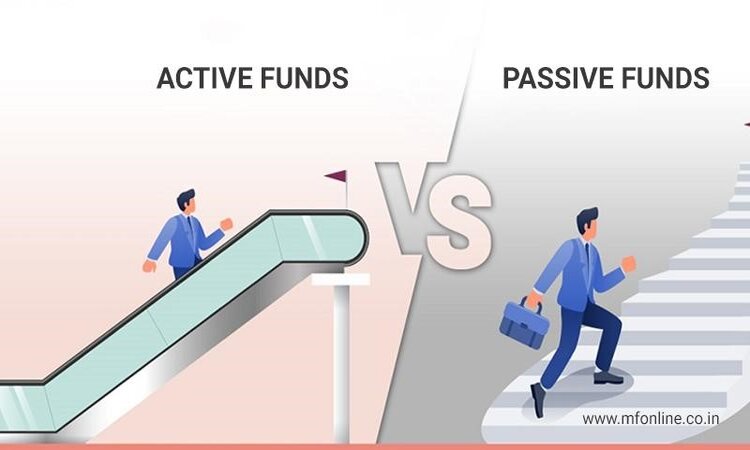 Recently Sensex touched 60,000, which is a historical achievement. However, whenever Sensex reaches a crucial milestone like the one in the present, many investors, particularly new investors, are in a frenzy to gain additional profits. If you are one of those investors, here's some advice to help you choose better Mutual Fund Investments.
When you consider investing in such a market, the first thing that comes to mind is where I should start investing? Or what plans are ideal for me? Market expert advisors at Mfonline have a thoughtful response. However, the foundation of the mutual fund investment remains the same: one should invest according to the risk profile and horizon of investment.
Mutual funds are of two types: active and passive, based on the investing approach of fund managers. The preference of investors for one or the other relies entirely on their profits and risk appetite.
Portfolios of mutual funds can be managed actively or passively. When we say management of the portfolio, we mean how the fund manager buys and sells the underlying assets (stock, bonds, other securities, and gold).
Any fund which is actively managed by the fund manager is called an active fund. The fund manager of an active fund decides to buy & sell underlying securities as per the mandate of this fund using his discretion, whereas, in passively managed funds, the fund manager replicated the index on which the fund is benchmarked, e.g., Nifty 50 An index fund will have portfolio mirroring(copy) the Nifty 50 & the fund manager cannot decide on his own to include any other stock.
But let us fully grasp these two concepts separately before we get into active V/S passive funds in India.
What are Active Funds?
In actively managed funds, funds are purchased and sold to maximize profits. The Fund Manager is primarily responsible for conceptualizing and picking out reasonable investments to execute a stock that exceeds the fund's benchmark or index.
Therefore, A fund manager needs knowledge, in-depth study, and extensive know-how to determine how securities are bought and sold. Although the fund manager is responsible for making decisions as per his will, it should be in line with the investment objective of the Mutual fund investor. That stated it might be costly to choose an active fund choice. The reason is that a fund manager's competence entails fees. Depending on the fund's equity-debt direction, the expenses ratio generally ranges between 0.08 and 2.25%.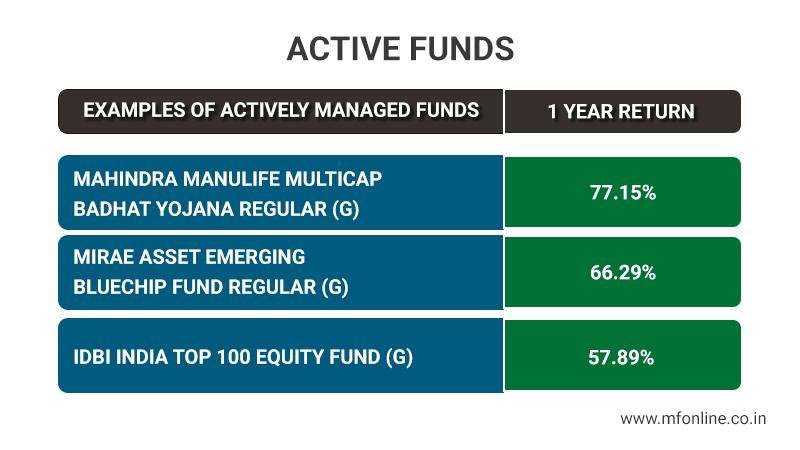 In active V/S passive funds, now let us study what passive funds are.
What are Passive Funds?
A fund manager is not actively involved in the portfolio management of passively managed funds. Rather, they only aim to duplicate a benchmark's performance. Unlike active funds, their passive equivalents have a buy-and-hold strategy that seeks to mirror a market index's returns.
The ETFs are passively managed. The fund manager does not regulate the Exchange-Traded Funds, but with ETFs, the fund follows and tracks the index movement. ETF's are not at the discretion of fund managers but SEBI. The index returns are converted to the ETF returns. Under the expense ratio charges, management charges, or other fees or dividends could be some of the differences.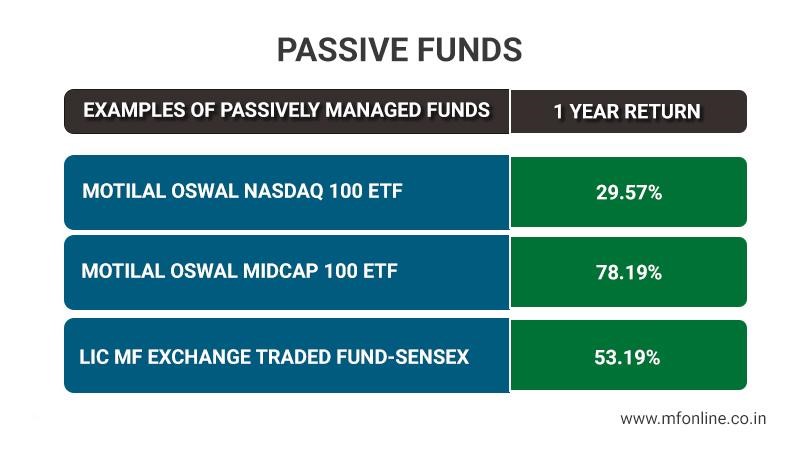 Pros and Cons: Active V/S Passive Funds.
Both these funds are unique in their way, so let us look at some pros and cons of active v/s passive funds, respectively.
Pros and Cons of Actively Managed Funds
Additional Returns: Active funds attempt to exceed market indexes and hence generate alpha (additional returns).
Cons
Expensive: A funds manager's expertise comes with a price. For knowledge and decision-making of the fund manager, investors will be charged (mainly the expense ratios).
Risk: Actively managed funds aim for higher returns; hence, these funds involve high risk.
Pros Of Passive Managed Funds
Cheaper: In comparison to actively managed funds, the expense ratio is lower in passive funds. The expense ratio for ETFs cannot exceed 1 per cent under the SEBI Regulations.
Cons of Passive Managed Funds
Benchmark: Passive funds generate moderate returns. As these funds follow the index benchmark, that is why the returns would be equal to its benchmark.
Differences between Active V/S Passive Funds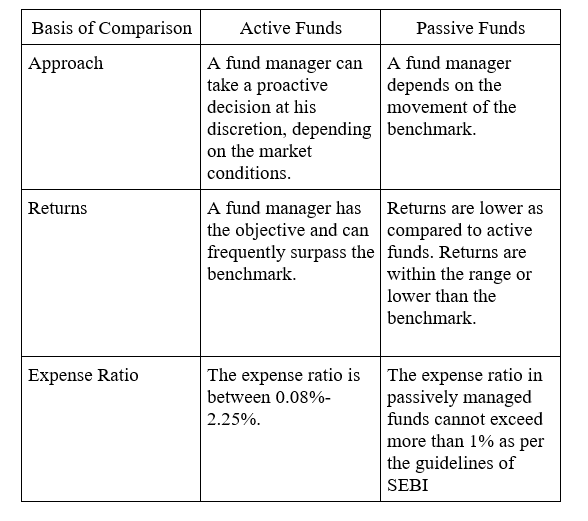 Active V/s Passive Funds: Which One should You Choose?
Our MFOnline specialists think that Active V/S Passive funds cannot be selected or compared. It relies totally on the investor's aim and its risk tolerance. If an investor, for instance, desires more significant returns, he may choose an active fund based on his ability to take risks. In the same way, a risk-averse investor who searches for stable income may opt to invest in passive funds. The difference between active and passive funds is more because of their features rather than any fund.
It is best to have both funds in your portfolio since one can provide more extensive returns than the market, and the other can generate relatively small but consistent gains for you.
Disclaimer: Mutual fund investments are subject to market risk; read all scheme related documents carefully.